Ultrasound lift — for a boost of confidence
As we age, our skin slowly starts to lose collagen. With this loss comes certain signs of aging, such as a softening, sagging, and wrinkling of the skin. The aging of the skin can be further aggravated by factors like irregular rest and work patterns as well as stress, and, once we reach our 30s, lasers and skin care products alone are not effective at treating these problems. One solution for such aging, sagging skin is proper maintenance with a non-invasive ultrasound lift.
At L'Excellence, we use two types of sonic lift devices—the US Ulthera ultrasound lift and the Ultraformer III ultrasound lift. After a consultation with our specialist dermatologists, they will assess the patient's skin and examine the level of aging to recommend tailored treatments for specific areas.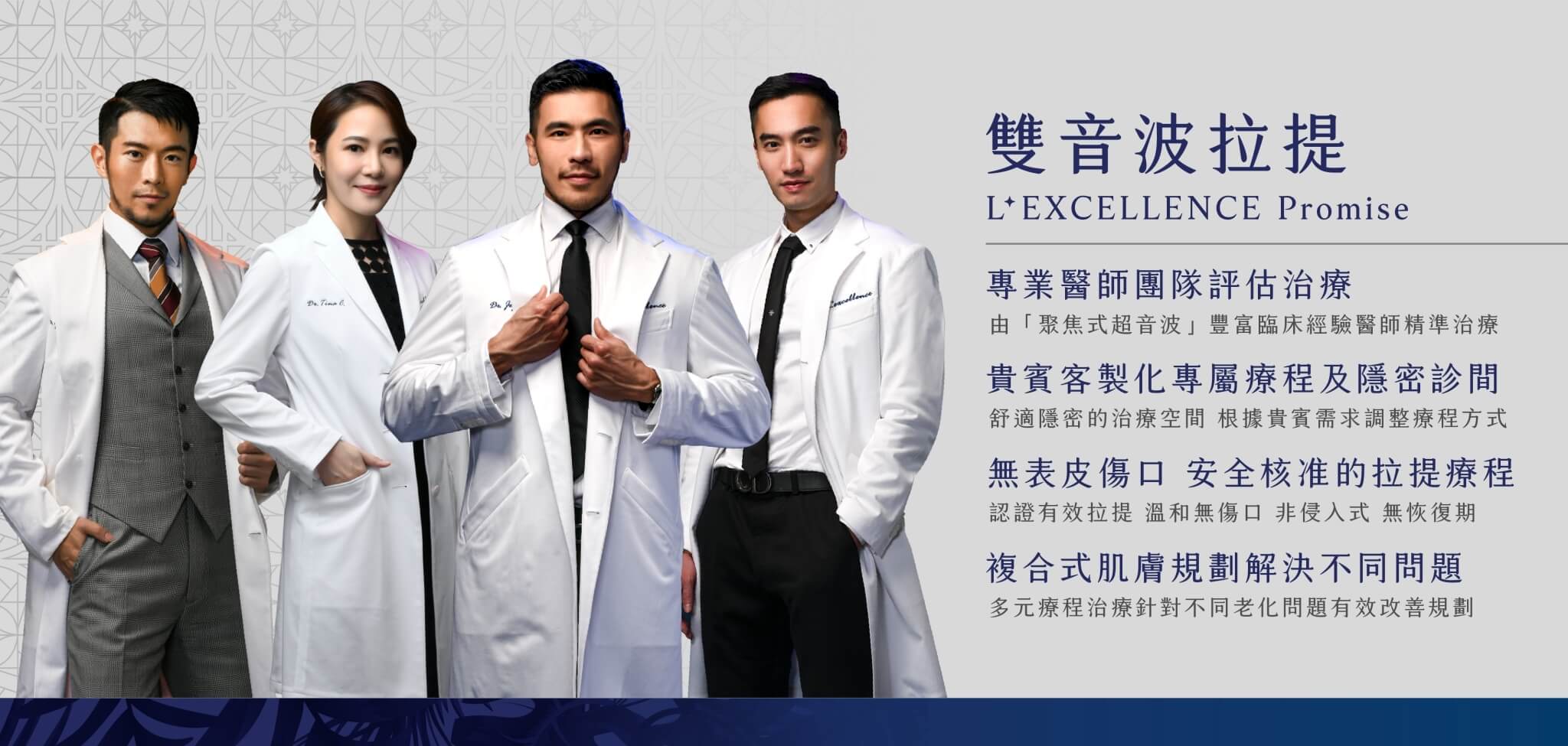 How it works
The US Ulthera ultrasound lift is a non-surgical therapy that works by harnessing focused ultrasound waves. These waves conduct energy harmlessly through the skin for a treatment depth of about 1.5 – 4.5mm. It achieves a lift by focusing the ultrasonic waves on a particular area, heating the SMAS layer, subcutaneous fatty tissues, and the dermis. As for the Ultraformer III ultrasound lift, it can penetrate a further 6-9mm, where the working temperature can reach 65-70℃ to induce the body's natural regeneration process and stimulate the recombination and production of collagen for a safe, precise tightening and lifting. The Ultraformer is effective at both lifting the face and tightening the body.
Because ultrasound lifts work by stimulating collagen with heat, the results are natural, non-invasive, without a recovery period, and effective with just one treatment. Significant results typically appear within 1-3 months post-treatment and the best results are seen from 3-6 months. Results can last 1.5-2 years, depending on the condition of each patient's skin, lifestyle, and care routine. Ultrasound lifts are effective at treating the various issues apparent at all ages, and our doctors will consult with each patient to provide a comprehensive, customized treatment including recommendations on specific devices, treatment applicators, and duration of radiation.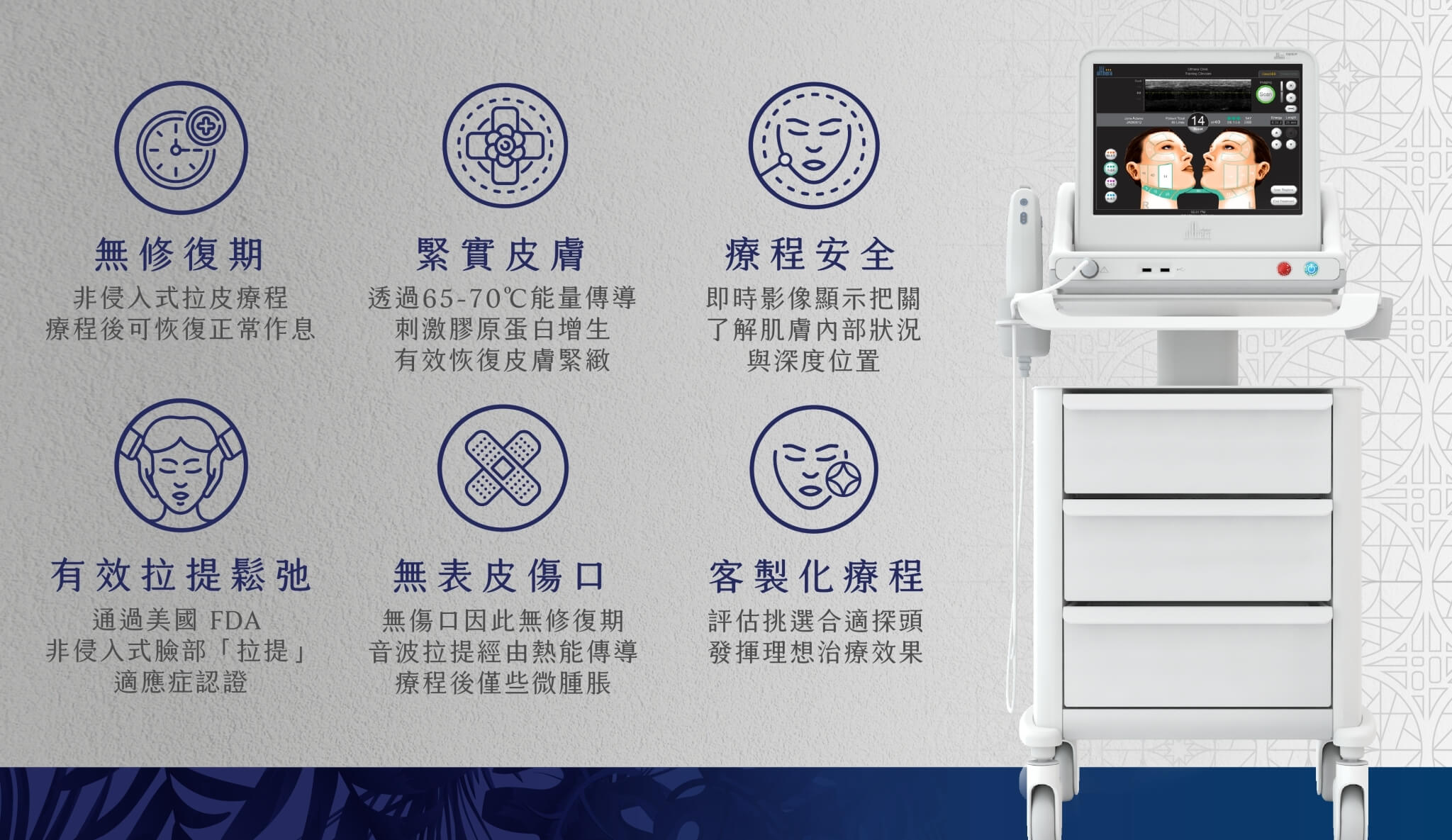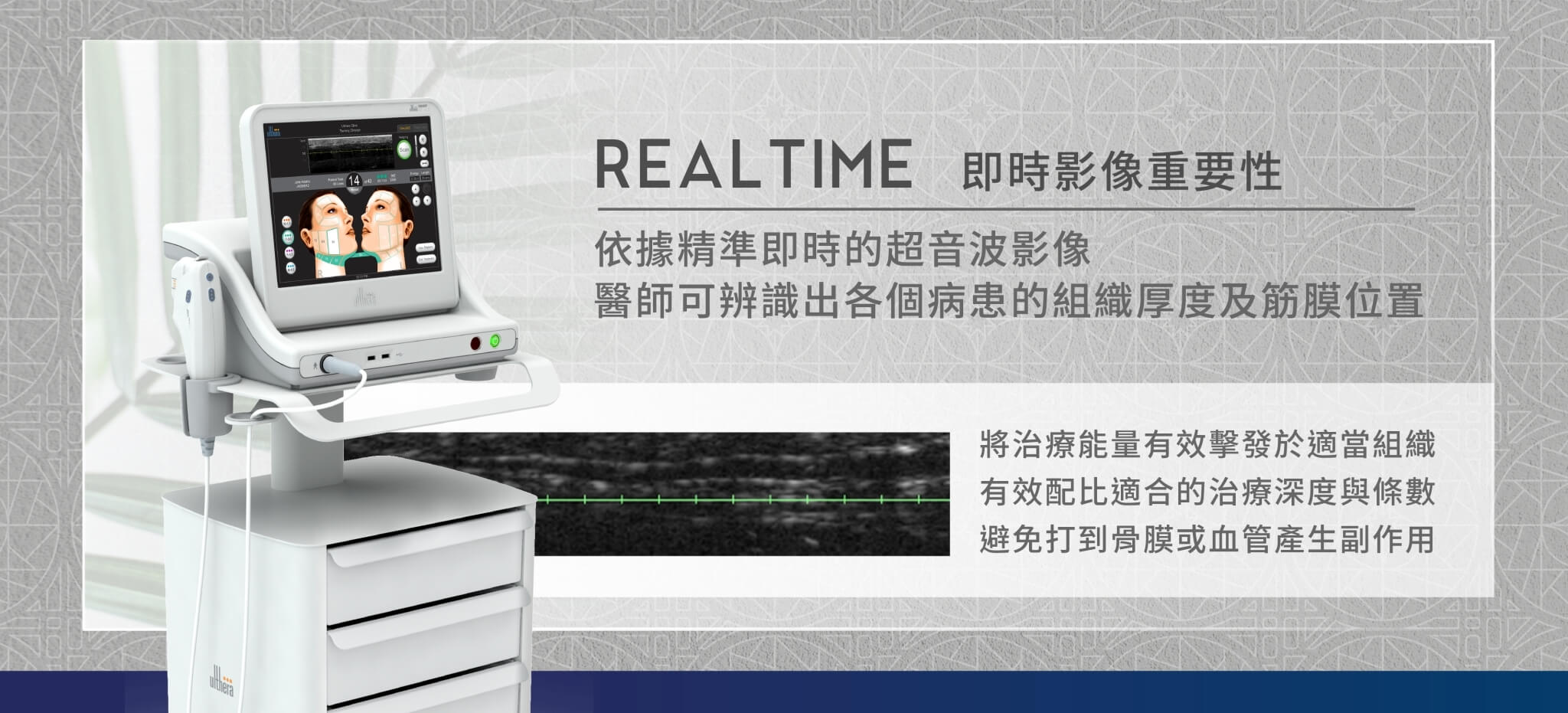 中文名稱:優珊納超音波治療儀。
英文名稱:Ulthera System。
衛部醫器輸字第025344號。
US Ulthera Ultrasound Lift
The Ulthera applicator is called an ultrasound energy transducer. Currently there are 3 transducer depths (4.5mm/3.0mm/1.5mm), with the main differences between them being the treatment depth and how long the energies will be applied to the skin. For full face treatments, it is typically recommended to use two of the above transducers to target both shallower and deeper tissues. A doctor will assess the distribution of treatment for each transducer and which to use based on the patient's needs. Ulthera is mainly used for treating the face and neck, but the treatment of other areas using Ulthera is currently undergoing experimentation (currently 30 ongoing  experiments), and in the near future we can expect treatments for areas like the stomach, arms, chest, and knees.
中文名稱:優珊納超音波治療儀。
英文名稱:Ulthera System。
衛部醫器輸字第025344號。
Ultraformer III Ultrasound Lift
The Ultraformer III can reach up to 6.0-9.0mm. If 4.5mm is deep enough to reach the fascia tissue, then many people are curious to know what is treated at 6.0 and 9.0mm. Simply put, the fascia tissue thickness of each individual is unique to that individual, so for some people 4.5mm may only be the top of the fascia, while those with thicker skin could have fascia as deep as 5.0-6.0mm. 
After much consultation, the medical team at L'EXCELLENCE recommends treatment at 6.0mm, just below the fascia and above the subcutaneous fatty tissues. Of course, ultrasound and radiofrequency lifts are therapies using heat, which tightens the skin by contracting tissues, and therefore a deeper tightening is better than a more shallow one. However, aging of the face occurs not only in the fascia but in the dermis as well, so it is critical to treat the problem with the appropriate therapies. For tightening and restoring elasticity to the facial skin, we also recommend supplementary treatments with a 3.0mm ultrasound lift and laser therapies for a more holistic approach.
此案例透過音波拉提眼周2.0深度治療,並搭配Galderma玻尿酸針對淚溝填補,進而改善眼袋及黑眼圈造成的疲態感,讓整體效果更加分。
Specific applicators for specific areas
Ulthera Transducer
Working depth 4.5mm applicator: for the SMAS layer and muscle fibers.

Working depth 3.0mm applicator: for subcutaneous fatty tissues.

Working depth 1.5mm applicator: for the dermis and shallow layers.
ULTRAFORMER III海芙音波探頭
Working depth 9.0mm applicator: for thicker areas of the body and improving cellulite.

Working depth 6.0mm applicator: for treating double chins, lifting areas of the body, and reducing stretch marks.

Working depth 4.5mm applicator: for the SMAS layer and muscle fibers.

Working depth 3.0mm applicator: for subcutaneous fatty tissues.

Working depth 1.5mm applicator: for the dermis and shallow layers.
Self Inspection
There are 3 signs of ageing that progress simultaneously as we get older. Based on years of aesthetic medicine experience, those signs can be grouped into the categories of sagging, sinking, and wrinkling.
When the cheeks begin to soften, this increases the tissue along the sides of the mouth, forming nasolabial folds and marionette lines, and drooping of the eyebrows and eyelids. These can be treated with non- or minimally invasive lifts. By applying heat to the skin and providing it with enough energy, we can initiate the production of collagen and elastin to improve the look of saggy areas. Treatment options include a Thermage radiofrequency lift or Ulthera ultrasound lift.
This can happen in numerous areas of the face, such as the apples of the cheeks, tear troughs, temples, cheeks, nasolabial folds, and forehead, causing a generally tired or worn-down look. To fight this, we can use fillers to restore volume to problem areas. Commonly used fillers include Sculptra, hyaluronic acid, Ellansé, or fatty tissue from the patient's own body.
The skin can be softened by moderate botox injections in common problem areas such as the forehead, crow's feet, and between the brows to prevent the repeated action of dynamic wrinkles. Studies have further shown that the application of appropriate levels of botox can not only slow ageing and treat wrinkles, but also help patients to appear generally more serene.
Frequently asked questions