Tixel thermal ablative therapy – for finer skin
中文名稱:諾凡克斯歐電刀除皺系統。

英文名稱:Novoxel Tixel System。

FDA Licensing No. 032712
There's always something new in the field of cosmetic medical devices, and when it comes to selections for maintaining the skin to fight aging, now there's a new and original therapy. This treatment is suitable for fine lines and large pores, and is specially designed to treat areas around the eyes, the neck, and the belly. 
Tixel has a titanium tip that is heated to a specific temperature before conducting that heat to the treatment area. It is low-trauma with a quick recovery period and is an increasingly popular method for maintaining the skin. Trixel fits in with our mission to provide a diverse selection of quality treatments to achieve our patients' desired results.
Tixel提可塑以熱力點陣而非光電的療程,對一般光療雷射而言,較無法近靠眼睛,擔心可能造成的傷害。在提可塑療程中,相對可直接作用於眼皮進行精準治療,促進膠原蛋白的增生,達到眼周及臉部皮膚緊緻拉提與撫平細紋的效果。提可塑的療程同時可合併皮秒雷射治療,透過複合式進行,讓整體的肌膚質地得到1+1>2的改善方式。
此案例為腹部妊娠紋複合式治療,透過Tixel提可塑熱力點陣治療,針對困擾紋路進行傳遞熱能並搭配PLT凍晶修護運用,讓膚質加速痊癒修復外,膚質的改善效果也能更加顯著。
How it works
Tixel, with its patented TMA (Thermal Mechanical Ablative) Technology, which was jointly researched and developed by Israel and Germany, is an innovative thermal ablative skin rejuvenation system. The therapy is based on the natural conduction of heat with no radioactive damage or risk of damage to the eyes. Using a needle-shaped tip, contact is made directly with the skin, conducting the heat energy to the treatment area, producing either tiny holes where the skin peels or areas where the skin condenses for the effective treatment of problems like wrinkles, neck lines, and pregnancy stretch marks. It can also treat pitted skin and can shrink pores. Tixel is able to avoid some of the barriers and side effects of traditional light treatments, minimizing discomfort, pain, recovery time, and darkening of the skin post treatment.
TMA technology: fractional thermomechanical ablation system
The Thermal Mechanical Ablative treatment is a non-laser, non-radiofrequency treatment. By directly applying heat to the skin, the fibrous tissues of scars and wrinkles are destroyed, stimulating the skin to rejuvenate and spurring the fibroblasts in the deep tissue layers into action. The result is smooth skin and the elimination of scars and wrinkles.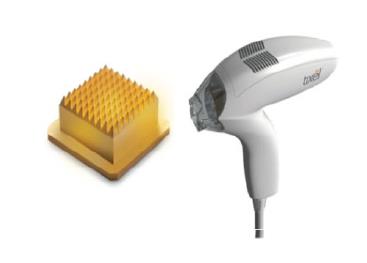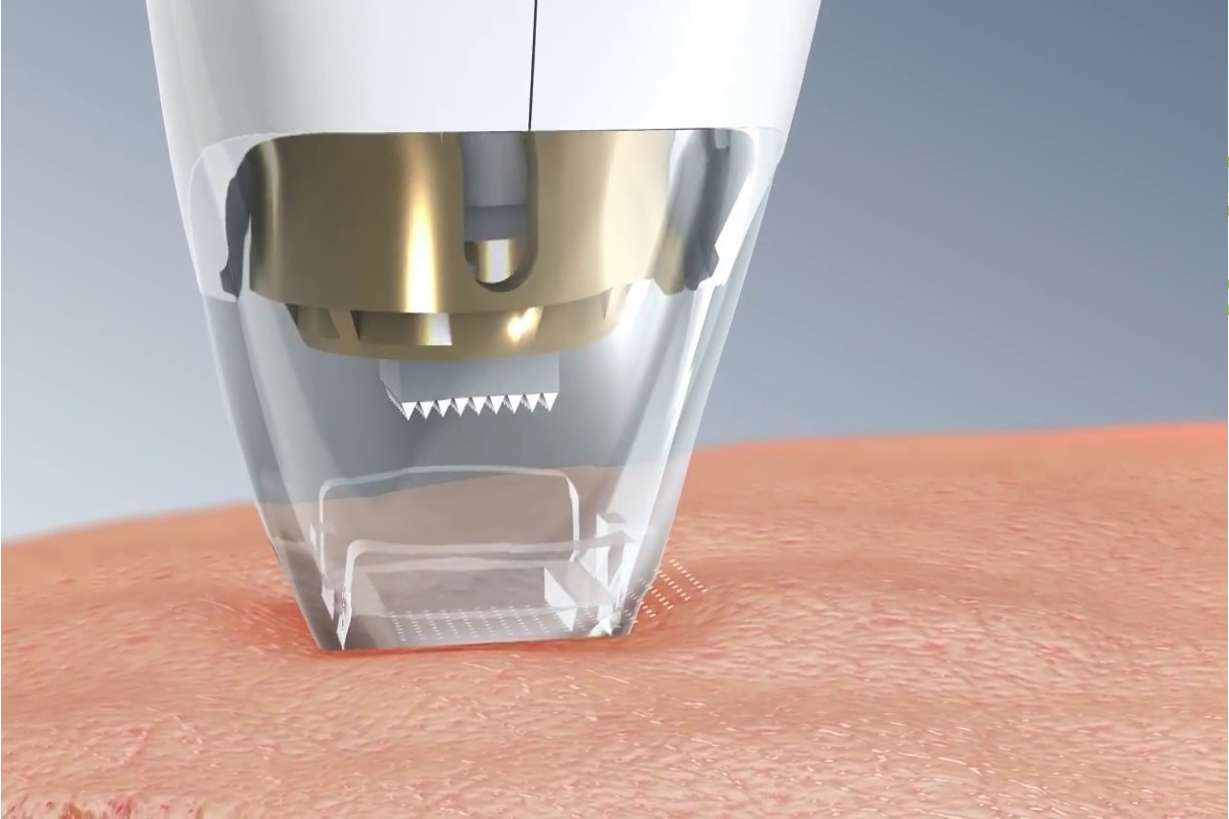 Device features
81 pyramid-shaped patented titanium alloy tips that apply constant temperature directly to the dermis without piercing the skin

when in non-ablative mode, it can conduct the heat to the dermis without causing damage to the stratum corneum with hydrophilic molecules that can effectively pass directly through the dermis

the fractional thermomechanical ablation system (TMA technology) only comes into contact with the skin after it has fully warmed up to effectively control the temperature and energy levels

has Taiwan FDA approval for dermatological and plastic surgical treatment of wrinkles and fine lines
Creates evenly spaced micro-perforations in the skin, reducing carbonization and side effects
接觸前,瞬間加熱至400度C,升溫完成後才進行肌膚接觸。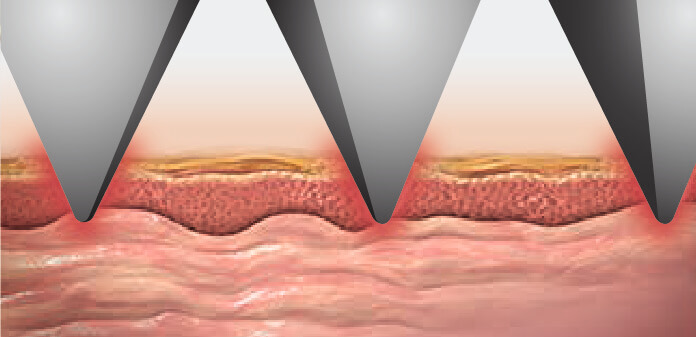 瞬間接觸,接觸肌膚時間約8~15ms,熱能以1/1000秒倍數傳導致組織,非常迅速。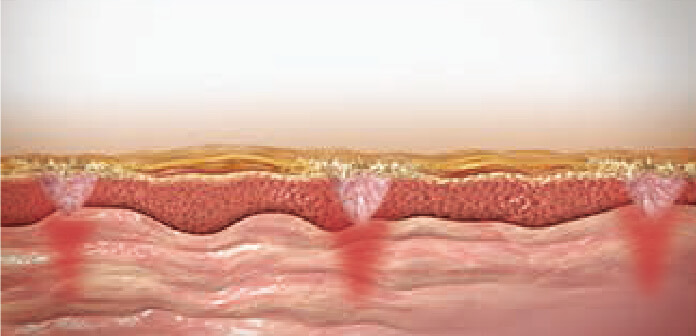 接觸後產生的微孔,依據不同的設定瞬間在肌膚產生不同的微孔。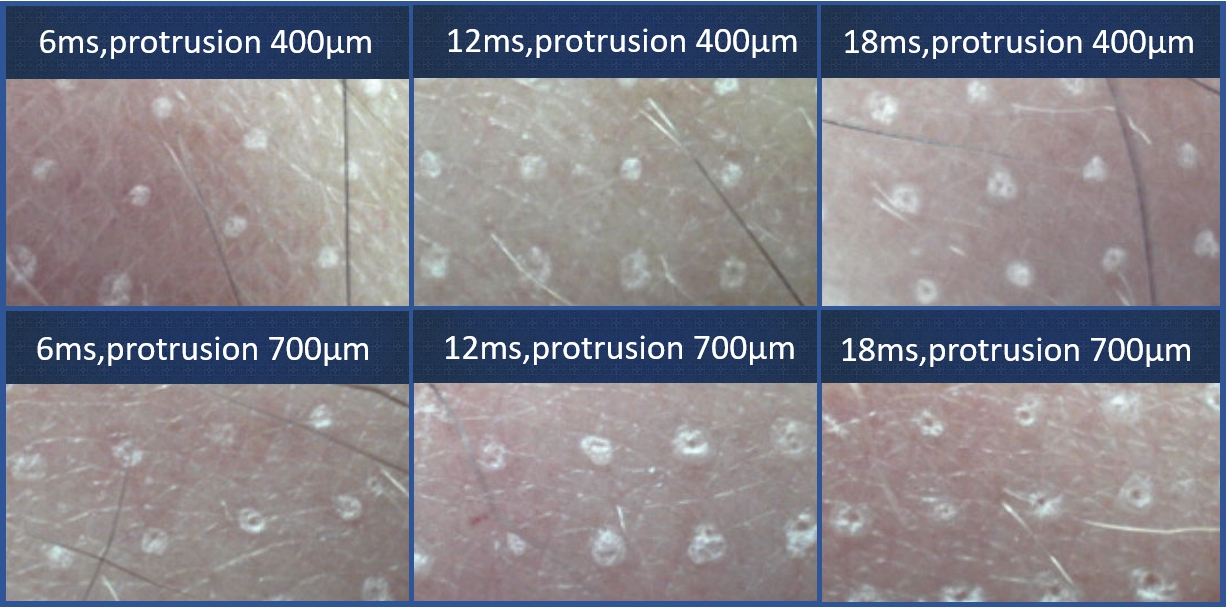 Tixel is an innovative fractional pure energy anti-aging device. With its patented TMA (Thermal Mechanical Action) technology, it surpasses the barriers and side effects of traditional light therapy lasers to minimize the discomfort and pain, recovery time, and post-treatment darkening. Tixel uses natural heat conduction, causes no radiation damage, and won't harm the eyes. Throughout the treatment there is minimal sensation of pain, and after treatment there is only a slightly warm feeling without any irritated skin or wounds. As there is no danger of radiation damage to the eyes, treatments can be carried out directly on wrinkles above the eyes. The recovery period is short, and after treatment you can resume regular use of cosmetics and cleansers. Pure energy treatments do not have any of the side effects of radiation.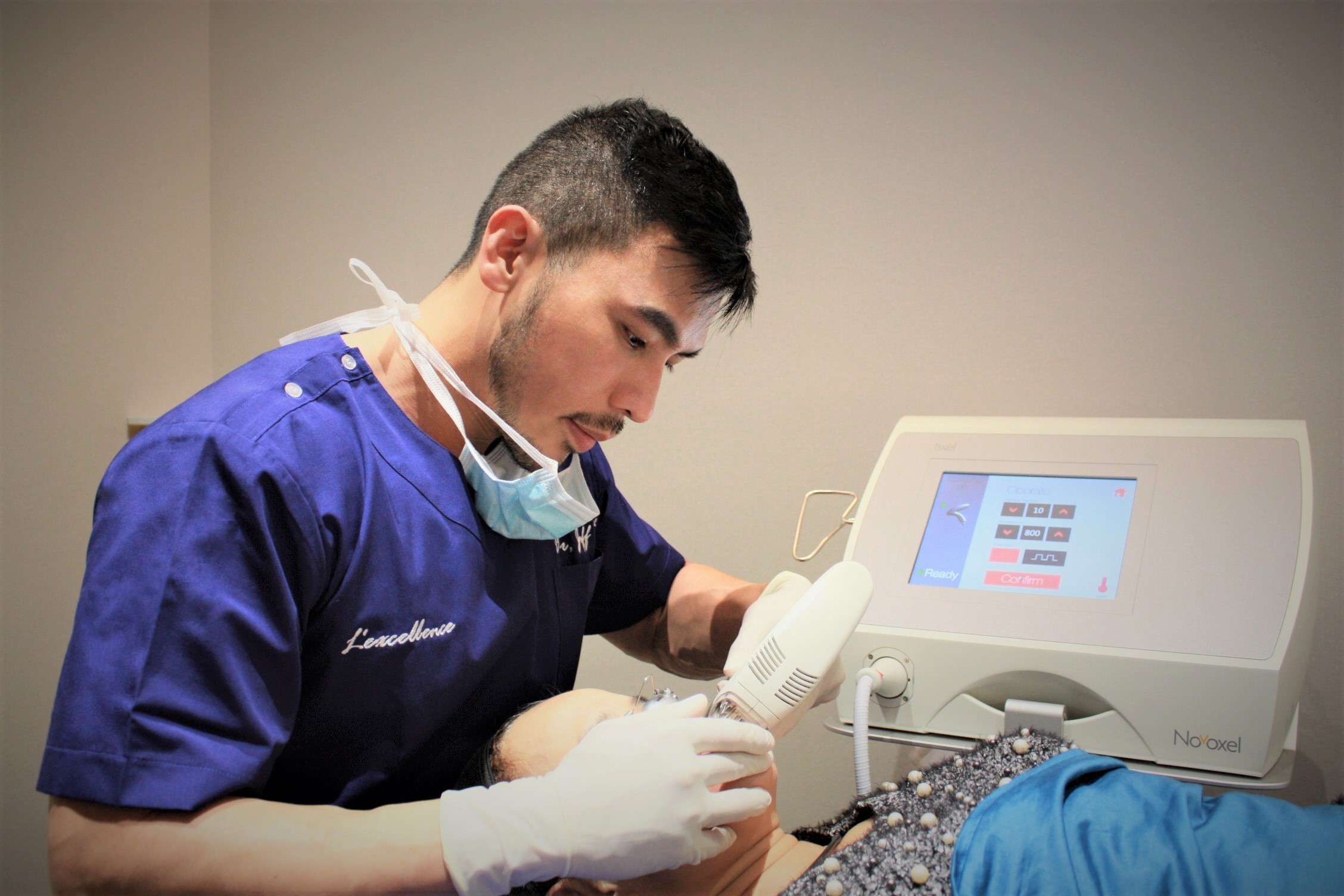 適用範圍
臉部細皺紋、毛孔細緻度

、

緊緻嫩膚。

全眼周360度去皺緊緻。

身體紋路撫平,真對脖紋、生長紋、妊娠紋。

皮膚老化改善膚色暗沉、提亮膚色、改善缺乏的彈性問題。
Frequently asked questions
Please clearly communicate the problem areas with your consulting physician. This will aid in the assessment of a suitable treatment method, area, and energy levels.

Please limit exposure to the sun; four weeks prior to treatment, avoid long exposure to sunlight.

Those who are pregnant or have light sensitivities or a history of family illness should consult with a physician to assess suitability of treatment.

Please discontinue use of products containing AHA or retinoids one week prior to treatment.

Please inform us if you have recently undergone any other cosmetic treatments, including the implantation of threads at acupoints, laser therapies, etc.
For three days after treatment, the skin will repeatedly become flushed and pink, and some people have reported feeling slight heat and tingling. These are all normal phenomena and will vary depending on the individual.

Once the redness has subsided, there will be small checkered marks on the face. You may wash your face and use makeup as normal. The marks will gradually subside in 7-10 days following treatment.

The best results are seen 1-2 months following treatment. Please be sure to moisturize and apply sunscreen throughout the process.

Please limit exposure to the sun; avoid long exposure to sunlight for the four weeks following treatment.